April 2010

In this edition:
Legislative Update:
District 5 and Community Update:
April 21: Budget Committee Comes to the District 5 Area
We are taking the Budget and Finance Committee out of City Hall and bringing it to the people for two special meetings in the community. San Francisco is facing a $483 million deficit. We need your input & participation to set the City's priorities and fight for resources and new revenue. Supervisor Mirkarimi has worked with Supervisor Avalos to retool the budget process for greater transparency, earlier participation from the Board of Supervisors, and a higher level of involvement from the public. We need your help! Please join us to speak out on the impact that the Mayor's and City Departments' decisions will have on you, your family and your community. Your voice can ensure that key neighborhood programs and vital services are not on the chopping block.

When: Wednesday, April 14th, 4:00 pm
Where: Horace Mann Middle School at 3351 23rd Street

When: Wednesday, April 21st, 4:00pm
Where: Hall of Flowers, 9th Ave at Lincoln Way

Supervisor Mirkarimi Introduces Ordinance to Provide for Safe Drug Disposal

Supervisor Mirkarimi introduced an ordinance that will provide for the safe disposal of expired and unwanted drugs. The ordinance would require drug manufacturers and wholesalers to participate in a Drug Stewardship Program for the collection and disposal of expired and unwanted drugs. The ordinance would apply to both prescription and non-prescription medication. Manufacturers would be prohibited from charging a fee to cover the costs of the program.

Wastewater treatment plants are not designed to treat complex drugs compounds that are flushed down toilets and sinks, leading to contamination of the Bay. Recent water studies by the US Geological Survey and the San Francisco Estuary Institute found numerous drugs in US and Bay Area water bodies.

A May 2003 pilot program showed there is significant demand for a drug disposal program in San Francisco. The Department of the Environment and PUC partnered with Walgreens on a drug collection pilot event that collected 1130 pounds of drugs in just two days. A recent take-back program in San Francisco found that the average household had 2.7 pounds of unwanted or expired drugs.

More info: Examiner article

April 19: Hearing on SF Crime Lab
Supervisor Mirkarimi has requested a hearing on the status of the San Francisco Police Department's crime lab. The Supervisor is deeply concerned about the reports of malfeasance and mismanagement at the crime lab and the impacts on public safety. Ross plans to hear from the Police, the District Attorney, the Public Defender, the Controller, and from the public to shed some light on the extent of the problems and begin to chart a course for resolving this troubling situation.

When: April 19th at 10 a.m.
Where: City Hall, Board of Supervisors Chambers, Room 250

April 23: Hearing on CleanPowerSF Progress

Clean energy supporters in San Francisco can finally breathe a little bit easier this year. CleanPowerSF, the long-awaited renewable energy alternative to PG&E's electric supply, will finally take effect later this year. CleanPowerSF is San Francisco's custom-tailored Community Choice Aggregation (CCA) program, which will grant all San Franciscans access to greener energy, increased consumer protections and local control, and the ability to choose between energy service suppliers. CleanPowerSF's goal is to be 51% renewable by 2017 while maintaining competitive rates with PG&E.

On Friday April 23rd at a special joint meeting of the Local Area Formation Committee (LAFCo) and the SFPUC will review the proposed contract with Power Choice LLC, who will run CleanPowerSF.

Questions? email cleanpowersf@sfwater.org or call 554-3289. Also, stay engaged online:
- cleanpowersf.org
- www.facebook.com/CleanPowerSF
- www.twitter.com/CleanPowerSF

More information:
- Bay guardian article
- Examiner article
- SF Appeal article

Board Urges the Muni to Create a Youth Lifeline Pass

The Board of Supervisors unanimously passed Supervisor Mirkarimi's resolution urging the MTA to institute a Youth Lifeline Pass, to be sold at the rate of $10 per month to youth who qualify for free lunch. A high proportion of San Francisco's youth population use MUNI to get to school, work, and extracurricular activities. Nearly 70% of SFUSD high school students use some form of public transportation to get to or from school.

Beginning in May, the Youth Fast Pass will cost $20 per month--this is a 100% increase over the past year. The current cost of MUNI fares and fast passes are already a financial burden to many youth, especially those in low-income families who are already struggling to make ends meet. Muni offers an Adult Lifeline Pass to adults at or below 200% of the Federal poverty level, but there is no similar consideration for our youth. There are currently 21,951 SFUSD students who qualify for free lunch. Offering a Youth Lifeline Pass could potentially be revenue neutral or even generate revenue for the MTA if it prompted youth who currently do not purchase fast passes to do so.

More info:
- Streetsblog article
- TheSquareSF article

Supervisor Mirkarimi Working to Bring the America's Cup to SF

The America's Cup is considered the oldest international trophy in sport and sailing's biggest prize. This February, BMW ORACLE Racing, which represents San Francisco's Golden Gate Yacht Club, became the first American challenger in 23 years to win the America's Cup. They now have the right to select the venue for the next America's Cup. San Francisco is the natural choice: We are the home town of the Golden Gate Yacht Club. The Bay is a sailing mecca with strong, consistent winds, and the Bay forms a natural amphitheater that would give spectators unprecedented views of the America's Cup. But cities across the country are agressively vying to host the America's Cup. Supervisor Mirkarimi has introduced a resolution urging the City to work diligently on a plan for a venue to host the America's Cup. Hosting the America's Cup would offer a number of benefits to the City from increased tourism to much-needed improvements to our maritime infrastructure.

More info:
- ABC 7 story
- Facebook group

Urging California Counties to Get Out the Jail Vote
There's an ugly myth in California that felons are not allowed to vote. It's not true. If you are not in prison or on parole for a felony, you can vote. California courts have ruled that convicted felons who are sentenced to county jail or placed on probation are entitled to vote. The right to vote is fundamental. Our democratic society is stronger when more people participate in elections. The San Francisco Sheriff's Department has implemented model procedures for ensuring that all inmates who are eligible to vote can do so. Supervisor Mirkarimi has introduced a resolution urging the California Department of Corrections to follow San Francisco's lead and adopt guidelines to allow for eligible incarcerated individuals to vote. This resolution is the first recommendation from the Reentry Council. The Council, created by Supervisor Mirkarimi, coordinates local efforts to support people transitioning out of the criminal justice system to help them successfully reenter society, reduce recidivism, and promote public safety. Supervisor Mirkarimi looks forward to future collaboration with the Reentry Council.

Board to Vote on Street Frontages Legislation
On Tuesday April 13th, the Board of Supervisors will vote on Supervisor Mirkarimi's ordinance to expand improved regulations for street frontages in neighborhood commercial districts across the city. The Market & Octavia Plan created rules to help ensure attractive, active, and pedestrian-oriented store fronts for new and renovated buildings. Some of the key elements include:
- Promoting extensive windows and transparency to create attractive store fronts that connect to the street.
- Requires that gates, railings, and grillwork be at least 75% open to view.
- Requiring 14 foot ceilings for first floor, non-residential uses where possible without sacrificing a floor of housing, and 10 foot ceilings elsewhere.
- Limits the amount of building frontage that can be sacrificed for driveways or garages
The ordinance received the unanimous support of the Planning Commission and the Land Use Committee.


District 5 and Community Update:
April 10: E-Waste Recyling in Cole Valley

This Saturday, come dispose of your old televisions, computers, printers, mobile phones and other electronics responsibly. Cole Hardware is partnering with Goodwill to reuse, recycle, and dispose of your unwanted electronics. Goodwill reconditions as much as they can and places the items for sale in their stores. Additonally, they train people on your old computers. Goodwill also teaches those interested in new career opportunities, how to repair and maintain electronics. What could be a better use of your old favorites?

When: Saturday April 10th, 10 a.m. to 3 p.m.
Where: Cole Hardware, 956 Cole at Parnassus

April 10, 11, 17, 18: Cherry Blossom Festival & Parade


The 43rd Annual Sakura Matsuri, otherwise known as the Cherry Blossom Festival, is happening in Japan Town over the weekends of April 10-11 and 17-18. In Japan, Cherry Blossom festivals are celebrated to aknowledge the momentary joys of life symbolized by the fleeting cherry blossom and to contemplate the changing of the season from winter to spring. The festival draws over 150,000 revelers each year and features traditional arts, music and performance and highlights Japanese-American heritage and history. Check out the ikebano exhibits, get something to eat in the food alley and take a break with the little ones at the Hello-Kitty kids corner. The festival culminates in a grand parade on April 18th. The parade begins at the Civic Center at 1:00 p.m., proceeding up Polk and down Post Street, and ending at the Sundance Kabuki Cinema. Don't miss the thunderous beat of the Taiko Drummers and the Taru Mikoshi - the Barrel Shrine - which features Sake Barrels and is carried by one hundred people.

More info: http://nccbf.org

April 22: District 5 Census Event
Have you returned your census form yet? You can track how the City, your neighborhood, and the rest of the country are doing at this cool census website. We want to make sure everyone is counted in San Francisco. The census determines how money is allocated for our schools, hospitals, job training, and countless other programs. Ten years ago, San Francisco was under-counted by 100,000, which cost us almost $300 million in lost federal funding. Join us at this fun event at Marcus Books to raise awareness about the census. There will be art, music, food, and fun. The first 50 people will receive free selected books.

When: Thursday, April 22nd, 3 - 7 p.m.
Where: Marcus Bookstore, 1712 Fillmore

More info:
- census response map website
- Chronicle article on census response rate
- Bay Area Reporter article on the census

April 28th: Inaugural Haight-Ashbury Farmers' Market
Come out to closed portion of Waller Street off Stanyan in Golden Gate Park on Wednesday, April 28th from 4 to 8 for the beginning of District 5's newest farmers' market! D5 now has the most farmers' markets of any District in the City. This market was made possible by Supervisor Mirkarimi's ordinance that simplified and lowered the fees required to operate farmers' markets on Rec and Park property. Supervisor Mirkarimi would like to thank everyone who helped make this happen, including the Rec and Park Department, Pacific Coast Farmers' Market, HANC, HAIA, and all of the other involved neighbors.

When: Every Wednesday from April 28th through October 27th
Time: 4 to 8 p.m.
Where: The closed portion of Waller Street off Stanyan in Golden Gate Park

More info:

- Pacific Coast Farmers' Market website
- October 2009 newsletter article
- Map of location
- Examiner article

Karen Crommie Honored for Women's History Month


As part of Women's History Month, Supervisor Mirkarimi honored Karen Crommie at the Board of Supervisors on March 30th. Karen has been a leader in the Haight-Ashbury and Cole Valley neighborhoods for years. In particular, Karen has helped turn around Alvord Lake--a corner of Golden Gate Park with a history of problems. Karen didn't do it because she loved to garden. Her passion is bringing community together. The Alvord Lake garden was a place and a way to do just that. Working with Captain John Ehrlich from Park Station, Alvoerd Lake became the place where Haight Ashbury street kids and its residents could meet on common ground. Slowly neighborhood resident came and volunteered cleaning up debris; used syringes, mounds of garbage and also worked to add plants and clear paths throughout the area.
The monthly work group has made a lasting difference to Alvord Lake. Now Haight/Ashbury families are enjoying the once troubled corner at Stanyan & Haight. Once a place they would never bring their children, now on any given day, neighborhood children play, residents and visitors bask in the friendly, clean environment. Alvord Lake was the recipient of the "2008 Beautification Award" by San Francisco Beautiful. Karen is a third generation San Franciscan, born in Haight Ashbury, graduated from Lowell HS and received a Masters of Art degree from San Francisco State University.

Nowruz at City Hall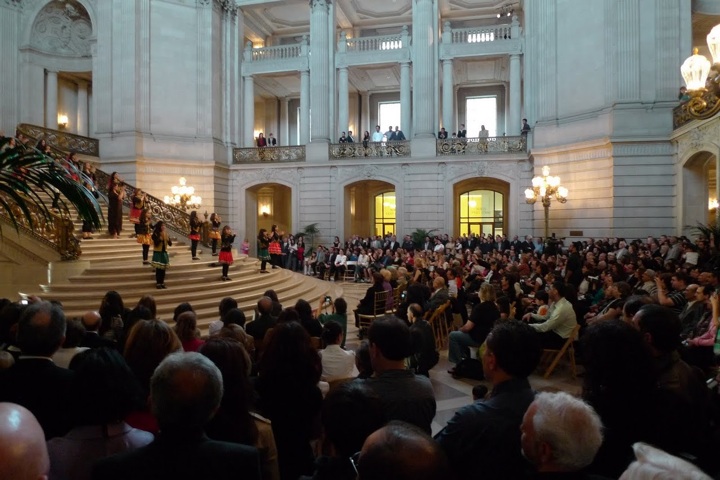 We'd like to thank everyone who came out to the this year's Persian New Year celebration, including Mayors Gavin Newsom and Willie Brown, and big thanks to everyone who helped organize this ambitious event. In particular, thanks to Dr. Elahe Ensanni. This amazing event would not have happened if it wasn't for her creative and generous leadership. It was standing room only in the rotunda of City Hall with more than a thousand friends gathered to celebrate Nowruz, listen to Persian music (saaz and Dohol) and watch traditional performances. The Haft Sin (traditional table setting of sweets, decorations, and tea) set up in the North Light Court was spectacular and set a great stage for deed-o-baazdeed, or "seeing & seeing again" of friends and family.

More photos: iranian.com/main/albums/added-glamour

Looking for a Job?

Census Jobs Available
The U.S. Census Bureau is recruiting temporary, part-time census takers for the 2010 Census. These short-term jobs offer good pay, flexible hours, paid training, and reimbursement for authorized work-related expenses. For more information, go to 2010.census.gov. There you can take a Practice Test (PDF).

The best way to start your application is to call 680-2020 to schedule a test.

JOBS NOW!
San Francisco is using federal stimulus money to put 1,000 unemployed and underemployed parents to work. The JOBS NOW! program benefits local employers by providing referrals of qualified workers and by subsidizing 100% of their wages until September 30, 2010. More information:
Information for Employers - Find out how JOBS NOW! can pay for new employees through September 30, 2010.
Information for Job Seekers - If you are an unemployed or underemployed San Francisco parent, you may qualify.

Work for the YMCA
The San Francisco YMCA has a number of job openings across the City. For information go to www.ymcasf.org/who_we_are/employment/job_listings.

Boys and Girls Club of San Francisco
The Boys and Girls Club of San Francisco is hiring for several positions throughout the City. For information, go to www.kidsclub.org.

Check Out the One-Stop Career Center
The new One-Stop Career Link Center is open to the public five days a week providing employment-related services. Call for an appointment or just drop in to talk to one of our friendly staff about our services. Bring your resume and get a 15 minute critique. Get helpful tips on planning your job search, navigating an Internet job search and how to evaluate your job interviews. Meet the staff and get the answers to your burning questions about jobs in demand, how to answer the tough interview questions and how to dress for success.

Hours of Operation at 1449 Webster (Safeway Plaza) are: Monday-Thursday from 9 to 5, Fridays 9 to 12 for job searches and 12 to 5 for workshops and classes. Job seekers are encouraged to come access the services. For more information, please call (415) 655-2620.

City Jobs
The City is always hiring for a wide variety of positions. For information on City employment openings click here. This page contains lists of job openings, information on Civil Service examinations, and a variety of other useful information on finding work.

Do You Know of Other Job Openings?
Please let us know and we'll include them in next month's newsletter. Email us at mirkarimistaff@sfgov.org or call the office at 554-7630.