March 2011 newsletter
Please delete the previous version of this email. This version contains all of the details for the Nowruz celebration. Our apologies for the extra email.

In this edition:


Supervisor Mirkarimi Hosts the Persian Nowruz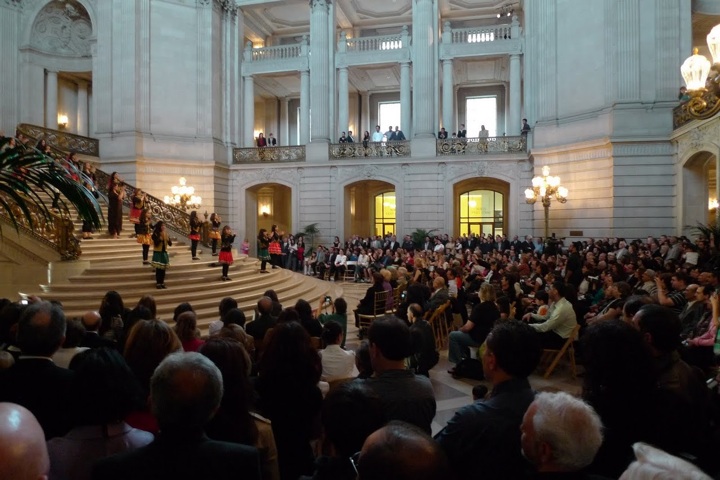 Come celebrate Persian Nowruz with Supervisor Mirkarimi at City Hall. Nowruz is the Persian New Year and first day of Spring.
The Nowruz deed-o-baazdeed at City Hall
When: Thursday, March 31, 2011,
Time: 5:30-8 PM

Program Details:
5:30-6:00 pm: guests arrive, musical entertainment
6:00-6:45 pm: programbegins, which includes Nowruz greetings and entertainment
6:45-7:00 pm: Nowruz and arrival of spring chronicle music guiding guests from Rotunda to North light Court
7:00-8:00 pm: viewing the haft seen and art work while sweetening your taste with traditional Persian sweets, drinking fragrant Persian tea and fruits and doing Iranians' favorite thing, deed-o-baazdeed which means "seeing & seeing again".

This is a community event and free to Public. The space is limited. Please go to www.nowruzatcityhall.com to RSVP.


Planning Commission Endorses Changes to Enliven Fillmore Street
A plan to add restaurants and retail space to eight blocks of Fillmore Street was unanimously endorsed by the City's Planning Commission Thursday, March 3.

The zoning changes --created through Supervisor Mirkarimi's legislation – are intended to encourage stores, shops and eateries to locate on Fillmore's Jazz District blocks by requiring "active" uses, and prohibiting business, professional and administrative offices.

Merchants and residents had expressed concern that the eight blocks of Fillmore between McAllister and Bush had been deadened by too many ground-floor office spaces.

The new rules will not be applied retroactively – so businesses that have ground floor offices will not be evicted and they can actually renew their leases. But new office uses cannot locate in spaces vacated by retail, restaurant or other active uses.


Supervisor Mirkarimi to Scrutinize Final America's Cup Host City Agreement

Supervisor Mirkarimi has requested that the Budget Analyst review the final Host City Agreement between the City and the America's Cup Event Authority and report back to the Board of Supervisors with findings.

The Budget Analyst's report on the final Host City Agreement as well as the Port's contingency plans and other America's Cup related measures will be heard on March 16 before the Budget and Finance Committee beginning at 10 a.m.

Mirkarimi wants the Port to address the possible relocation of waterfront businesses and provide alternatives to minimize business disruption.

For the most recent news surrounding the America's Cup go to:
- www.americascup.com/
- Business Journal article



Lyon-Martin Health Clinic Escapes Closure for Now; Finances Reviewed

On March 2, Supervisor Ross Mirkarimi led a special hearing on the financial viability and possible closing of the Lyon-Martin Health Clinic.

Lyon-Martin, located near the corner of Market and Octavia, is the only clinic in San Francisco providing culturally competent health care for women and transgender people regardless of their ability to pay. Supervisor Mirkarimi has long been one of its chief supporters.

The hearing explored potential impacts on 2,500 clients in the event they are displaced and provisions for continuing their care. The hearing also reviewed the clinic's financial information.

Lyon-Martin's Board of Directors announced in late January that the clinic faced immediate closure due to numerous and unspecified debts. Supervisor Mirkarimi and others have expressed concerns about the board's capacity to oversee the clinic's finances. While the clinic has received donations in recent weeks, questions remain about the clinic's future.


Supervisor Mirkarimi Looks to Expand Local Hire Policies
At the Board of Supervisors Land Use Committee on February 28, Supervisor Mirkarimi sounded the call for expanded job opportunities for San Franciscans.

Mirkarimi, who was encouraged by community groups and labor to explore budgetary, administrative, and legislative options, focused specific attention on residents of disadvantaged communities, and avenues for them to perform non-construction jobs created by city contracting.

San Francisco continues to endure a jobless rate hovering near 10% and Mirkarimi has prioritized finding every opportunity to leverage the City's capital and other spending to benefit unemployed residents.

Mirkarimi, who in 2007 crafted landmark legislation to consolidate the City's workforce development efforts, proudly co-sponsored Sup. John Avalos' local construction law in December and believes in broadening the approach to include non-construction – which may be an untapped reservoir of opportunity.

"Construction is not for everyone and expanding local hiring to the service sector represents the next frontier in terms of using employment to address quality-of-life issues, as well as public safety, in our communities," said Sup. Mirkarimi,

Next steps will include exploring legislation to expand local hire requirements to other City Agencies, such as the Port and Redevelopment Agency, which are not currently subject to the First Source Hiring Ordinance


Biofuel Board Poised To Expand
Supervisor Mirkarimi is leading an effort to expand a city body that establishes biofuel standards.

Mirkarimi introduced a resolution to the Board of Supervisors on March 1 that would expand the three-member Biodiesel Taskforce to seven members and rename it the Biofuels Citizen's Advisory Committee.

The new name reflects the growing array of fossil fuel alternatives available to the City and County of San Francisco.

Since 2006, the three-member Biodiesel Taskforce has fostered new, greener fuels and has become the center for expertise for California state agencies and federal government agencies as they begin to evaluate regulating and promoting fossil fuel alternatives.

The new committee's immediate goals are as follows:
- Work with the Mayor's Office and City agencies to both expand and continue the successful implementation of the City's biofuel program;
- Establish standards for sustainability related to biodiesel and the City's purchase of biodiesel for City vehicle use
- Encourage biofuel use in the City by expanding public access to biofuels and educating the maritime and construction industry about biofuels' uses and advantages

The full Board of Supervisors is scheduled to vote on the changes on March 8.


SFPD To Receive Crisis Intervention Training
Supervisor Mirkarimi joined forces with the Police Commission on March 1 to help the SFPD better handle the detention and arrest of people with mental illness.

The Police Commission recently approved a plan to train 25 percent of SFPD for a crisis intervention team. Mirkarimi's legislation affirmed that decision, but reminded the SFPD and mental health stakeholders that the program's success depends on adequate and efficient mental health treatment systems in San Francisco.

Mirkarimi noted that SFPD is confronted with a much higher volume of mental health issues than other cities. Meanwhile, Mirkarimi said, drastic City budget cuts have resulted in woefully inadequate psychiatric and mental health services.

Mirkarimi cited several examples: a decrease in SF General inpatient psychiatric beds from 84 to 21 from 2008 to 2010, and a drop in SF General full-time psychiatrists from 12 to 7 between 2007 and 2009.

As Chair of the Board of Supervisors' Public Safety Committee, Mirkarimi convened a special hearing on the issue on February 17. The resolution was informed by that hearing. The full Board of Supervisors could vote as early as March 8 on the resolution.


Reentry Council Update and Expansion
Supervisor Mirkarimi chaired a Public Safety Committee meeting on February 17th, 2011, during which committee members unanimously recommended an ordinance expanding the membership and duties of the Reentry Council and extending its tenure until 2014.

Many thanks to the members of the City family who attended and testified, with special thanks to Public Defender Jeff Adachi for appearing before the committee. Supervisor Mirkarimi also is gratified that Reentry Council members attended the meeting and shared their passion and commitment to the council's work.
The Full board of Supervisor unanimously approved the ordinance at its meeting on March 1. Supervisor Mirkarimi established the Reentry Council in 2008 and is grateful to his colleagues for their kind remarks and for extending the its existence.

The Reentry Council's first annual report on reentry is available here (PDF). If you are interested in serving on a Reentry Council subcommittee or finding out more about the Council, please see http://sfreentry.com or contact Jessica Flintoft at reentry.council@sfgov.org or (415) 553-1593.



Drug Disposal Pilot Program Update

The Safe Drug Disposal Program is an industry-funded pilot program to encourage consumers to properly dispose of unused pharmaceuticals in San Francisco.

Supervisor Mirkarimi will be meeting with stakeholders later this month to finalize the final details of implementation based largely on the successful program in San Mateo County.

Like San Mateo, the San Francisco program will include disposal receptacles at five SFPD stations. However, San Francisco will augment the program by adding 10 local and independent pharmacies in seven districts across town that will all be provided secure, locked containers in which customers will dispose unused pharmaceuticals. The City will in turn provide for the collection and disposal of these unused pharmaceuticals.

More information on the San Mateo Program.


EXTREME POLICY WONK NERD ALERT!! Street Frontages Part II
Supervisor Mirkarimi continued his reform of the Planning Code last August when he introduced an ordinance amending the city's Planning Code to ensure that new and renovated buildings in residential and industrial districts create safe, walkable, and attractive street frontages.

Currently, street frontage controls in the Planning Code vary greatly from one residential district to the next.

The ordinance provides consistent parking and loading zone requirements across residential districts. Rules include that one-third of street frontage must be dedicated to building entries, landscaping, and other features which foster the residential character of the neighborhood.

The Planning Commission reviewed the proposed change in January of this year and made several recommendations to augment and clarify Supervisor Mirkarimi's legislative intent as well as using the opportunity to conform other parts of the Planning Code to other recent changes.

Accordingly, Supervisor Mirkarimi submitted substitute legislation on March 1, 2011to reflect the Planning Commission's recommendations. The matter will likely be heard in the Board's Land Use committee in mid to late March.


Supervisor Mirkarimi and Mayor Lee Meet with Japan Town Merchants and Community

On a rainy day in February, Supervisor Mirkarimi and Mayor Lee walked door to door in Japan Town talking to merchants and community leaders about JTown's future.

San Francisco's Japan Town is the oldest and one of three left in the U.S. Supervisor Mirkarimi is working with the community on several issues; the modernizing of the commercial corridor and the Japan Town Better Neighborhood Plan (BNP).

The BNP is moving forward to open JTown for people to have a greater connectivity between the adjacent neighborhoods; to end cultural divides, including a historic separation between the largely African-American Fillmore community and Japan town. Supervisor Mirkarimi is working towards a revitalized commercial corridor and creating communities that work, play and live together. Mayor Lee said he would be open to promoting business and tourism in the area. (Photo by Steve Rhodes.)


Supervisor Mirkarimi Honors Carlina Hansen for Women's History Month

On March 15th at the Board of Supervisors meeting, Supervisor Mirkarimi will honor Carlina Hansen. The special program honors one woman from each district, selected by the Supervisor, for their contribution to their communities and to city of San Francisco.

Carlina Hansen is the Executive Director of the Women's Community Clinic in District 5.

The Women's Clinic operates on a "women helping women" model and provides free sexual and reproductive health care and outreach services to Bay Area women and girls.

Carlina consistently stays focused on her mission and has maintained high quality services in this fiscally challenging climate. One of the ways Carlina has met the challenges of providing services has been to develop a volunteer-based delivery model that breaks down financial, physical, and psychological barriers that prevent women from taking care of their health.

Carlina firmly believes that a healthy woman creates healthy families and this fundamental value of women's health and empowerment informs the work of the Women's Community Clinic. Carlina has supported other programs through the clinic that not only support the mission of the clinic, but also women who are entering the health care profession and that provide training and mentorship for women who are interested in becoming involved in policy development and leadership.

For more information and to access the services offered, please visit www.womenscommunityclinic.org/.
Where; City Hall, Board of Supervisor meeting
When; Tuesday, March 15, 2011
Time; 3:30 PM


New Traditions Principle; Maria Luz Agudelo Nominated for Principal of the Year
Maria Luz Agudelo, principal of New Traditions Creative Arts Elementary School in District 5, was nominated for Principal of the Year for Region 5 of the Association of California School Administrators.

New Traditions is a school where students are not only taught in the traditional way, but with projects integrating visual arts, music, poetry, and drama, taught by professional artists of our community. A nurturing education appreciates, supports and enjoys each student at his or her own individual, social, emotional and academic level. Agudelo will be notified if she is chosen on March 21 at the association's annual leadership conference.
Congratulations on the nomination Ms. Agudelo! We hope you win!


Second Chance! Reentry Clinic Free Legal Advice -Fillmore/Western Addition – Save the Date!
Need legal advice about your past arrests or conviction?

Visit the Second Chance Reentry Clinic to receive free legal services provided by the Lawyers' Committee for Civil Rights. The clinic will be held at Mo' MAGIC, 1290 Fillmore Street (at Eddy) on March 29 at 6pm. For the best advice, please bring a recent RAP sheet.

For more information, contact Tanya Koshy at (415)543-9444 ext. 235. You can get a RAP sheet by going to the San Francisco Police Department Identification Bureau at Hall of Justice, 850 Bryant Street, Room 475, 4th Floor, San Francisco, CA 94103.
WHERE: Mo' MAGIC, 1290 Fillmore Street (at Eddy)
WHEN: March 29, 2011 at 6pm


Earn It! Keep It! Save It!
Tax season is here! "Earn It! Keep It! Save It!" (EKS) is a free tax assistance program. Last year, EKS put $17 million in refunds back into the pockets of 14,964 San Francisco County households – and back into the local economy. The most crucial benefit being ensuring taxpayers who qualify for the Earned Income Tax Credit (EITC), receive it. It is estimated that $13 million in EITC go unclaimed each year in the County of San Francisco alone. For more information visit www.earnitkeepitsaveit.org or contact Kelly Batson at (510) 238-2415.


Project What! Is looking for Applicants
Project What! is a program of communityworks that finds paid jobs for the youth and is looking for applicants for the current session. If you have encountered similar life experiences, Project What is looking for you:
• One or both of your parents have been incarcerated at some point in your life.
• You are willing to speak publicly about it and share your experiences.
• And are between the ages of 15 and 24.
Applications must be submitted by April 22, 2011 and applicants must be willing to make a year commitment to the program. For more information about how much the job pays and application materials, visit www.communityworkswest.org or text (510) 914-8164.


The 5th Annual Fillmore Mardi Gras Celebration – Save the Date!
A four day celebration with kick-off activities on Saturday, March 5th, in the Fillmore Min-Park starting at 12 noon and culminating with the annual Masquerade Ball on Fat Tuesday, March 8th. "The Fat Tuesday" Ball will feature Lloyd Gregory, a live DJ, dancing, dinner, beverage, a $300 prize for best costume and a silent auction with all proceeds benefiting The Village Project's summer programs for children. A Ticket/Donation price of $45.00 covers all the events.
See http://www.mardigrassanfrancisco.com/ for details.
WHERE: Fillmore Min-Park
WHEN: Tuesday, March 8th, 12pm



7th Annual Super Surgery Day
On March 12th, Supervisor Mirkarimi will be joining Kaiser Permanente in hosting its 7th annual "Super Surgery Day" in collaboration with Operation Access. Operation Access arranges outpatient surgical and specialty care for low income residents and the uninsured. This year's Super Surgery Day will provide donated surgical services to 25 uninsured residents. The success of this program is made possible by the donated time of nearly 100 physicians, nurses, support staff and volunteers and the facilities of Kaiser Permanente. So we thank them for improving the health and well-being of our residents.
WHERE: 2425 Geary Boulevard
WHEN: March 12th, 2011, 7:30-11:30 AM



Ross to Speak at 1st Annual Green Film Festival
On March 3rd, Supervisor Mirkarimi opened the 1st Annual San Francisco Green Film Festival. The Festival kicked off with the Bay Area premiere of BAG IT ( www.bagitmovie.com), a documentary about the movement to ban single-use plastic bags. Ross has been an effective champion of this issue and was successful in passing the first plastic bag ban legislation in San Francisco, which inspired other local and state governments to pick up the issue. The Green Film Festival, March 6-10, 2011 at the Landmark Theatres Embarcadero Center Cinemas, sfgreenfilmfest.org for information.


California Lawyers for the Arts and African American Cultural Center present; "Creating Peace"
A community event for all, students will perform; dance, music and drama
All welcome and free
Where: African American Arts & Cultural Center, 762 Fulton
When: Saturday, March 5, 10:00 AM – 4 :00PM



March 6: St. John Coltrane Church Processional

A cultural event in the Fillmore/Western Addition, the St. John Coltrane church will lead a procession starting at the Church itself and proceed down Fillmore to the Marcus Book Store. Come join the procession and support this wonderful local church!
Where: St John Coltrane, 1286 Fillmore Street
When: Sunday, March 6, 2011, 3:00-4:30 PM



St. Mary Medical Center Opening New Cancer Center
Come join Supervisor Mirkarimi in the grand opening of St Mary's New Cancer Center. The new cancer center located at Hayes and Stanyan will allow patients to undergo radiation and chemotherapy in one location. The 14,200 square-foot center facilities occupying the ground floor of St. Mary's will treat 400 chemotherapy patients and 200 radiations patients annually.
Where: St. Mary's Center, 450 Stanyan Street
When: Saturday, March 26, 2011, 1:30-2:30 PM



Goodwill/One Stop Open House
Stop by and join Supervisor Mirkarimi at the Goodwill-One Stop open house.
Goodwill is the new operator of the Fillmore/Western Addition One Stop; a job resource center.
When; Thursday, March 31, 2001
Where; 1449 Webster Street
Time; 3-4:30 PM



Lower Haight Spring Art Walk
It's time for the quarterly art walk in the Lower Haight. Enjoy art, music, food and neighbors while you stroll through the Lower Haight.
When; Friday, April 1, 2011
Where; Haight Street, between Webster and Scott
Time; 6-9 PM


Looking for a Job?

Training a Sustainable Workforce
Sector Academies combine skill development, support services, and job development to prepare and place low-to-high skilled individuals in a range of jobs within targeted industries: construction, green and health care. The Sector Academies are currently recruiting participants for specialized vocational skills training in the following areas:
Health Care: Home Care Provider, Youth Health Care Bridge and Certified Home Health Aide
Green: Energy Efficiency, Solar Thermal Installation, Recycling and Transportation

Interested candidates should attend a Sector Academy Orientation Session, which includes information about the available training programs, career options, minimum qualifications and the enrollment process. Additional information can be found at:
http://www.oewd.org/Workforce_Development-Sector_Academy_Training_Programs.aspx

City Jobs
The City is always hiring for a wide variety of positions. For information on City employment openings click here. This page contains lists of job openings, information on Civil Service examinations, and a variety of other useful information on finding work.

Work for the YMCA
The San Francisco YMCA has a number of job openings across the City. For information go to www.ymcasf.org/who_we_are/employment/job_listings.

Boys and Girls Club of San Francisco
The Boys and Girls Club of San Francisco is hiring for several positions throughout the City. For information, go to www.kidsclub.org.

Free classes in medical assisting, billing, and administration
The Mission Language & Vocational School ( MLVS) offers free classes in medical assisting, billing, and administrative assisting. Learn medical terminology, anatomy & physiology, computer skills, medical office admin, medical coding, insurance billing, lab skills, EKG, and so much more. Spaces limited. Monday – Fridays Visit: www.mlvs.org or contact Dr. Nuez at 415-648-5226 onunez@mlvs.org Or Gladys Soto 415-641-3705 gsoto@mlvs.org.

Check Out the One-Stop Career Center
The new One-Stop Career Link Center is open to the public five days a week providing employment-related services. Call for an appointment or just drop in to talk to one of their friendly staff about their services. Bring your resume and get a 15 minute critique. Get helpful tips on planning your job search, navigating an Internet job search and how to evaluate your job interviews. Meet the staff and get the answers to your burning questions about jobs in demand, how to answer the tough interview questions and how to dress for success.

Hours of Operation at 1449 Webster (Safeway Plaza) are: Monday-Thursday from 9 to 5, Fridays 9 to 12 for job searches and 12 to 5 for workshops and classes. Job seekers are encouraged to come access the services. For more information, please call (415) 655-2620.

Do You Know of Other Job Openings?
Please let us know and we'll include them in next month's newsletter. Email us at mirkarimistaff@sfgov.org or call the office at 554-7630.

Click Here for Our Online Calendar of Events
On the google calendar, one-time events are displayed in green while recurring events are displayed in orange. Click on the title of an event to display the location and more details about it, as shown in the image below:



If you have an event that you would like us to include, please email us at mirkarimistaff@sfgov.org.

Board of Supervisors Information
Looking for the Board of Supervisors meeting information, minutes, or agendas? Click the picture below or go to www.sfbos.org.



Comments, Suggestions, or Questions?
Do you have any comments, suggestions, complaints, or questions about our newsletter or anything else? Email us at mirkarimistaff@sfgov.org or call the office 554-7630.

Did you miss a previous newsletter?
Links to the monthly newsletters are now archived on Supervisor Mirkarimi's sfgov.org page.