ENVIRONMENTAL BOYCOTT OF EXXON/MOBIL NOT ENOUGH?

HOW ABOUT A CONSUMER BOYCOTT OVER HIGH PRICES?

To Be Fair, We Should Note That A Consumer Boycott Might Adversely Affect Former Exxon/Mobil CEO Lee Raymond's $398 Million Retirement Package (Pictured Below).

The Sierra Club has been leading a boycott of Exxon/Mobil, the nation's largest oil company, over its environmental record. Now consumers fed up with Exxon/Mobil, are thinking along the same lines.

Gas prices are climbing rapidly, with the Department of Energy predicting another $.25 increase to close to $3.00 this summer. Some experts are speculating about $4.00 gasoline next year. Of course, this run-up occurred even before the latest increase in the price of oil and without a Hurricane like Katrina knocking out refineries.

Last year's "don't buy gas on a certain day" campaign that couldn't be effective. After all, we were just going to buy the same gasoline the next day. It was more of an inconvenience to us than it was a problem for the oil companies.

The boycott effort doesn't seem to be organized (We've seen it attributed to a Coca Cola executive who is passing along the thoughts of a Halliburton engineer.). Better World Club believes in consumer Buying Power Could we all act together to force a price war? Arguably, if Exxon/Mobil sees its sales drop, they will reduce their prices. If they reduce their prices, their competitors would be forced to follow.

Interested? This effort requires more than you, the reader, boycotting Exxon/Mobil. You need to tell your friends about the consumer boycott as well.

Please let us know whether this effort has appeal by completing the survey above and to the right.

Related Articles:
grist Magazine l New York Times l Chicago Tribune

Pombo and Crapo Join Forces To Gut The Endangered Species Act

Groucho, Chico, And Harpo Decline Comment On The Proposed Legislation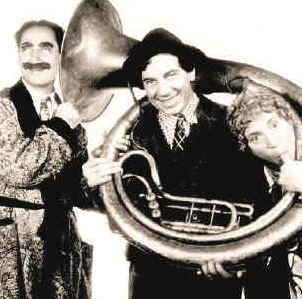 Signed into law by Richard Nixon in December of 1973, the Endangered Species Act has stood for over thirty years as a landmark piece of legislation. Hundreds of plant and animal species have been protected under this law. Without the Endangered Species Act, the bald eagle, our national symbol, would be extinct.

However, some folks in Congress are trying to water down the ESA. Rep. Richard Pombo (R-California), and Senator Mike Crapo (R-Idaho) have teamed up to strip protections from millions of acres of protected habitat.

Late last year, Pombo sponsored a bill that passed in the House of Representatives (H.R. 3824). Crapo is pushing the Senate version of this bill right now (S. 2110).

You'd think with names like Pombo and Crapo, they'd be wacky, fun-loving guys. Unfortunately, they are like too many others in Congress: Favoring corporate special interests over the environment and the welfare of individual Americans.

The Senate has not voted on this bill, so there is still time to act. Tell the Senate what you think.

Semi-Related Articles:
The Sacramento Bee l courant.com l Spokesman-Review.com l YubaNet.com


Is The Bush Administration Pulling a Fast One?

Are Proposed Higher Fuel Economy Standards Intended to Mask Pre-Emption of Tougher State Greenhouse Gas Emission Regs?

State AGs Think So. But They're Probably Just Angry, Loony Liberals

The Bush Administration has proposed higher fuel economy standards for all vehicles but trucks. Although described as anemic by environmental leaders, most are surprised that the Administration increased fuel economy standards at all.

But there may be an underlying reason (Some would say :Who better to put the lying in underlying? Driving Change deplores the coarsening of American political rhetoric.) Slipped in the regs appears to be an effort to pre-empt the efforts of California and nine other states to increase controls over the greenhouse gas emissions of automobiles beyond the efforts of the federal government. Complete Story
This Month's Featured "Directions": A Centrist Looks at Global Warming.

Washington veteran--and former Better World Club staffer--Neil Chernoff examines the seriousness of global warming and the unseriousness of the response to it. He argues that the left hasn't been much more serious than the right, with measures to slow, rather than reduce, greenhouse gas emissions inadequate to the job. Complete Story

Meanwhile, US Greenhouse Gas Emissions Reached a Record Level in 2004 although we only found it reported in England???

Additional Ways to Get Where You're Going:

Speaking of Exxon/Mobil, Ralph Nader Welcomes Its New President.
---
Abid Aslam argues that real Tax Reform Could Internalize Environmental Costs, Save the Planet
---
John Lincoln Kitman reveals that not all hybrids are alike when it comes to environmental benefits (Read the excerpts or read the full article with a NYTimes subscription)
---
Mark Hertzgaard forecasts the impact of global warming in Vanity Fair's "Green" issue.

If you would like to contribute your opinion to Driving Change's Giving Directions please email it to us at info@betterworldclub.com.
DO YOU PUT YOUR MONEY WHERE YOUR MOUTH IS?
Wild Oats and Henry's Support Sierra Club

Better World Club to Seek Support from Corleone Olive Oil

Wild Oats and Henry's -- natural and organic supermarkets with locations across the country are bringing you a special Sierra Club offer: Click on the link below, print out the coupon, and bring it to your local Wild Oats or Henry's anytime in the month of April, purchase $50 or more, and 10 percent of your purchase amount will be donated to the Sierra Club. You'll also receive a $5 coupon towards your next visit!

According to the Sierra Club, Wild Oats and Henry's believe in protecting the health of our planet and preserving it for future generations; they actively recycle in all their stores, choose renewable power sources where available, provide corn-based biodegradable containers in their deli, and feature everything from Fair Trade products and locally grown produce to beef, chicken, and pork raised on sustainable farms, plus environmentally safe body-care and household products. Click here for more info.

Be Careful What You Wish For:

Chevy Lets Website Visitors Design Their Own Commercials for the Atrocious SUV Tahoe

Some Not Exactly "Advocacy" for the Product

"Our planet's oil is almost gone. You don't need GPS to see where this road leads." Wow, never thought we'd see that in a Chevy Commercial, much less one for one of the great American gas guzzlers, the Chevy Tahoe.

Don't worry, the earth still revolves around the sun. This is just one of the thousands of consumers who used Chevy's "create your own ad" website to send their own environmental message to the company.

Chevy apparently got together with The Apprentice aspirants to come up with this idea. But the tactic backfired, and the young, potential consumers who are the target of this kind of "user generated" advertising provided a different kind of copy: "Global Warming Isn't a Pretty SUV Ad," "$70 to fill up the tank, which will last less than 400 miles. Chevy Tahoe." Our favorite ad warns that the Tahoe will "damage other's cars more than yours" so you can "continue to drive like a heedless jerk."

Unfortunately, it appears that Chevy's shut down its website or we would have awarded our own prize for the best commercial that was sent to us. Oh well. One should not take pleasure in the discomfort of others. (And we like GM's ethanol ads.)

Most Investment Bankers Do Well.

Some Do Well While Doing Good. Goldman Sachs Is In This Group

Goldman Sachs is a multi-national, multi-billion dollar investment banking firm that also happens to care about the environment. In September of 2004, Goldman Sachs bought 680,000 acres of land in Chile and created a nature reserve that will be protected in perpetuity.

Of course, not everyone's happy. Some stockholder's have complained that it's all well and good to help the environment, but they want money. Never mind that shareholder returns averaged 27% in 2005 and 25% in 2004.

More Info:
The Santiago Times l Goldman Sachs



The Better World Club Alternative Fuel Report

Gas Prices Up Across Country; Alternative Fuels Prices Mixed

Two of Three Alternative Fuels Less Expensive than Standard Fuels

The increasing costs of petroleum and the effect that it has on the American economy has been widely documented. Though, as Better World Club's Fuel Report displays, drivers of alternative-fueled vehicles are more likely to be 'gently disciplined' rather than 'hit hard'.

Following trends set in previous Fuel Reports, LPG (Liquid Petroleum Gas) continues to be the least expensive of the vehicle fuels, followed by Ethanol 85. Biodiesel is generally the most expensive of the fuels.


---

Fuel
Type

West
Coast

West

MidWest

New England

South

BioDiesel
B20

3.14

2.92

2.89

2.97

2.77

Ethanol
85

2.99

2.40

2.61

2.86

2.65

1.93

2.07

1.77

2.60

2.46

Gasoline

2.84

2.56

2.75

2.75

2.78

Diesel

2.88

2.75

2.73

2.86

2.72

---


"Kicking Asphalt" and "Driving Change", the eNewsletters of Better World Club

Are you getting them? You're Not?! Click here to sign up. You are? If you're already receiving them, but you're such a masochist that you want to get them twice, then click here. Just think of us as your enabler. Alternatively, if you have decided to persue an existence of abstinence (political, that is), directions for unsubscribing are at the bottom of this email.

DRIVING CHANGE Anagram of the Month:
"Hac Dig Nerving"
#1 Google Search Result For "Hac Dig Nerving"