---
---
frank films & tribal surf present...

ONE WINTER STORY
a BENEFIT art auction & film sneak preview

with special guest
SARAH GERHARDT, big wave surf pioneer & scientist


EVENT PROCEEDS:
Proceeds support Frank Films' final post production of One Winter Story, the documentary on Mavericks' first woman surfer, Sarah Gerhardt.


WHERE & WHEN:
Thursday, January 5, 2006
6:30pm - 10:30pm | all ages

at
Blue Cube | San Francisco
about | map | directions | food nearby | parking | reviews


TICKETS & DONATIONS:
Admission: $8 advance | $10-20+ at door
Online donations of $75 & up will receive a beautiful limited edition booklet of stills from the movie, signed by the filmmakers and Sarah Gerhardt.

NOTE: advance sales end at 11:00pm, Wednesday Jan 4.

To make advance purchases or other donations to support the film, go to:
http://www.acteva.com/booking.cfm?bevaid=101835



EVENING HIGHLIGHTS:

o SNEAK PREVIEW of "ONE WINTER STORY" | 8:30pm (15 minutes)

If you saw the sneak preview at our last event, this is a newly produced one!

One Winter Story, which is slated to be released in February 2006, is a rare glimpse into the adrenaline-pumped, male-dominated world of big wave surfing through the eyes of SARAH GERHARDT, a big-wave surf pioneer and scientist. This hour-long, experimentally shot film by San Francisco & Hawaiian filmmakers Sally Lundburg & Elizabeth Pepin takes viewers inside an overly hyped sport, exploring the nature of fear and desire through the experience of the first female to surf the monstrous waves at Mavericks.

One Winter Story is a personal documentary that follows Sarah from her difficult childhood filled with poverty and homelessness into adulthood where she achieves academic and athletic success. The film captures more than four years of surf sessions in the blistering wind, rain and fog on the Northern California Coast, and features spectacular surfing by both men and women, from Santa Cruz and Mavericks, to Hawaii's North Shore. | more at Frank Films.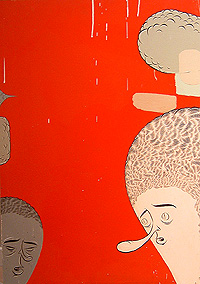 o SILENT ART AUCTION | ends 9:30pm

Help One Winter Story get to the big screen! Bring your checkbooks & credit cards and BID on some fantastic paintings, photography, two fish SURFBOARDS and more generously donated by a star-studded list of prominent local artists tied to the surf community, including Barry McGee (aka Twist), Paul Ferraris, Clare Rojas and more!

note: artwork images here do not represent what will be auctioned or raffled


o DJ MUSIC by the Noe Valley Track Team

o LIVE MUSIC by Drifting Sand

o RAFFLE! - win boards & gear from 831 clothing, Hotline, and more...